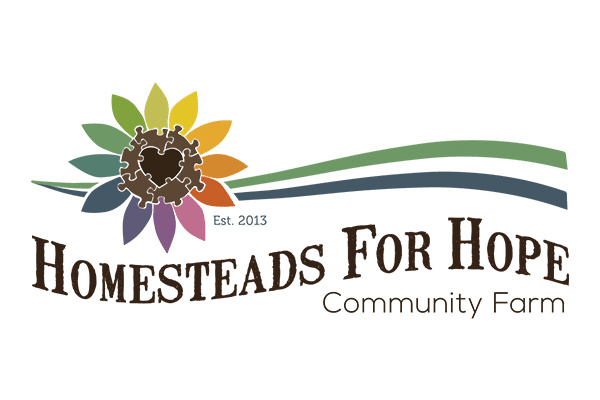 Last month we had our Homesteads for Hope presentation with Founder and President Jenny Brongo at Equal Grounds Café!
Jenny spoke about her personal journey of being a sister to Autism and how that lead her to creating the Homestead.  Her brother, Chucky, was diagnosed with Autism at a young age when Jenny was a little girl.  As Chucky became an adult, he aged out of many of the support services.  Jenny started taking Chucky on walks on a family farm to get him out and interacting with his surroundings and noticed how Chucky began to change positively.  She thought about the positive changes that she saw take place in her brother and about the large number of children with intellectual and developmental disabilities who are going to transition into adulthood.  She realized that we, as a community, are not ready to meet the needs of those with special needs.  This is when she decided to found Homesteads for Hope.  The Homestead is a 55-acre farm on the canal that includes a working farm, store, and so very much more.  Jenny's goal is to create an agricultural community where individuals of all abilities can learn, work, live, and play without judgment.
She has teamed up with many community resources including BOCES and the Cornell Agricultural Center.  The very first opening of the Homestead occurred today (5/15).  Students will be able to take classes that will teach them activities of daily living (laundry, dishes, cooking, cleaning, money management, etc.) and so much more.  Jenny is working towards growing the farm store where the farm's bounty will be sold (produce, crafts/goods, fresh farm eggs, etc.) and she is working towards becoming a part of the CSA community that serves Rochester.  She is also using the Homestead as an event space for dinners, networking events, concerts, and more… did I mention that the property is right on the canal?
There is so much more to her story and vision that I could add – although that would turn this email into a novel for sure.  I would like to encourage all of the members to view her short video that is posted on her website and to explore this non-profit further.
The Video can be watched here and below: http://www.homesteadsforhope.org/farm4autism
I am actively working with Jenny to create an opportunity where members can tour the Homestead and see the changes that she is creating in our community.
Stay tuned for more and keep an eye for the upcoming newsletter!
​
Mariel Bank
NextGen Education Chair