NextGen Member Highlight:  Mary Steblein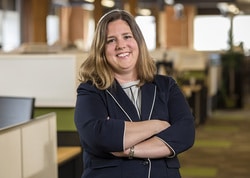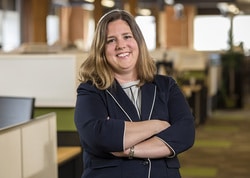 My name is Mary Steblein, and I joined NextGen in 2011. I've been a member of the Advisory Committee since June 2014 and I actively participated on the Grants Committee in 2014 and 2015. To be honest, the biggest factor that led me to join NextGen was Claudia Burcke. If she hadn't mentioned it to me several times, and strongly encouraged I check it out, I may not have looked further into the mission of NextGen. However, once I met other people involved inNextGen, and realized how impactful my donation would be when combined with the larger pool of donations, I wished I had joined much sooner!
WHAT IS THE NEXTGEN ROCHESTER GRANTS COMMITTEE?
Through my work on the Grants committee, I've been introduced to a multitude of local organizations. Even if we can't include them all in our grant program, after Grants meetings I've started to follow them on Facebook and look for opportunities to help out. The NextGen grants selection process was new to me, but here's the basic process: All members are asked to identify their grant "issue areas" each year via a survey. An RFP is developed which highlights the grant areas and requests a pre-application form – this is distributed to local non-profit organizations. We generally start off with nearly 100 grant applications, which undergo a high-level review for compliance with the RFP, and are then narrowed down further by the Grants committee to a select group asked to submit full grant applications. We then make a second cut to determine no more than 10 finalists to present to the full membership at our Annual Meeting for voting. Any NextGen member is encouraged to participate on the Grants Committee – the debate tends to be lively, and fresh perspectives are always welcome.
​​ABOUT MARY STEBLEIN
I'm a licensed Professional Engineer working in the Civil Division at LaBella Associates. Most of my work with nonprofits has been related to my profession, such as the Rochester Engineering Society, the American Society of Civil Engineers, and the Society of Women Engineers. I've also been part of LaBella's Habitat for Humanity "Women Build" team since 2012. NextGen has been a great fit for me to expand my nonprofit experience beyond the engineering world. My husband Michael is also a NextGen member.